Best Of
Hello guys
I am trader in binary options and since 1 year I am trader at binary.com and I am very happy about the options that this broker offer.
And now I am more happy that this broker allows us to try test and see if we can make autotrading robots for our way/style of trading.
I am trying to make an robot with the logic/style 1 PUT,1 CALL (For example: "First investment 1 euro CALL 5 ticks ,next investment is PUT 5 ticks another investment is CALL 5 tick and next invesmtnet to be PUT 5 Ticks).
And 1 more thing here or element to add in the video that Is here describes automatic trading but there is no option to entry values for amount for trading,maximum loss, target profit etc.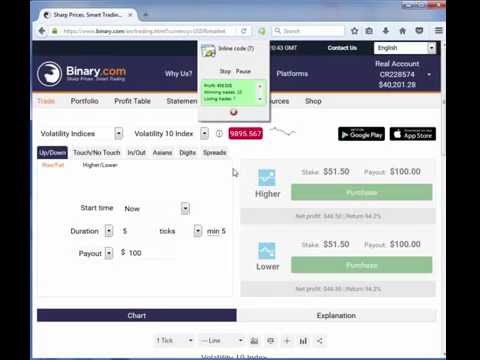 Also how to make this to work in martingale strategy ?Anyone help ?
I have a video link here to describe better the situation from a guy that made earlier this kind of strategy but I want to make it in bots here or to implement in real trading and virtual also to test and if it works good why not to publish to help experienced and new traders.
Also I tried to make an strategy with those bots with RSI period 7 when it touch the level 90% to buy PUT 5 ticks and when it crosses the 10% of RSI to buy CALL 5 tick options (also in martingale and stop loss for example maximum loss 100 euros or 200 depends on your amount capital.
I hope anyone can help me here you can write me at [email protected] or in fb/dritonbytyqi007
Hi Amin,
I have an idea to improve something related to BOT and Candle interval,
Right now it is attached to the block Define Your Contract.
But if we need to build a BOT that take decisions for one specific contract based on different criteria that include different Candle Interval , I guess its not possible. So for example If I want to open a Call contract IF 1 min Candlestick is closed Upper X value from 1 min chart AND its also Y value away from SMA of 5 Min Candlestick (Candle Interval 5 min).
I propose to include this option in the Candle List variable, and not inside the block.
Thank you.
trader